The Foxenwood Estates Homeowners Association (FEHA) Board of Directors meets at 7:00pm on the first Thursday of each month, at the Foxenwood Tennis & Swim Club, 1087 Clubhouse Drive. All are welcome to attend! If you wish to bring a concern to the board, please use CONTACT US on this website, so that we may add you to our agenda.

Meet our FEHA 2023 Board of Directors

Jodi Radford, President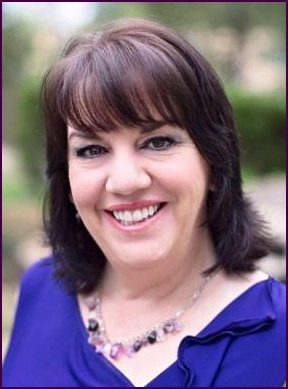 Mario Juarez, Director



Mario is a native of Santa Maria, and is an attorney and partner in the law firm of Brenneman, Juarez & Adam, LLP.  A graduate of St. Joseph High School in Orcutt, he received his Bachelors of Arts degree in Law and Society from UCSB, and his Juris Doctorate from the UCLA School of Law.  He practices law in the fields of contracts, estate planning, wills and trusts, probate, business transactions and formations, business and civil litigation, appellate law, agricultural law, real estate transactions and litigation and personal injury.

He is also very involved in serving the community.  He has served in various positions on the following: Allan Hancock College Foundation (including 2 terms as board president); the Allan Hancock Citizen Bond Oversight Committee; Habitat for Humanity, Northern Santa Barbara County; the Santa Barbara Foundation; Lecturer for Women's Economic Venture; Lecturer of free estate planning classes at Allan Hancock College; and youth soccer coach.


Russell Vincent, Vice-President


Russell has served on the board more than five years.  He grew up in Central Washington, and after graduating from Washington State University in 1993, he and his best friend threw their belongings into his dad's horse trailer and moved to San Diego!  There he met his wife, who at the time lived in Santa Barbara, so he relocated there in 1998 and in 1999, they moved to Santa Maria.  In 2003, they sold their first home and moved to Foxenwood, which Russell attributes to a lot of good luck, as prices were escalating at the time.  Three weeks later, their daughter was born!  Now with two children, they spend much of their weekend time at school sporting events.  Russell is a loan officer at Guild Mortgage.

Casey Stone, Director





D'Ann Bartley, Secretary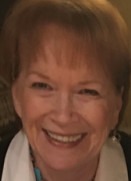 My husband Jerry Penn and I moved to Foxenwood Estates from Sunrise Hills in 2006. We spent the next 6 months making major changes, including  a new master suite addition, and gutting and remodeling the kitchen.  One thing is for sure: one cannot "over-improve", as Foxenwood property values are always either rising or at least steady!
My background is in real estate, for 30 years, and retail, having owned a craft store in Santa Barbara.  As of summer, 2014, both my husband and I have been retired, and enjoying the freedom! 
Previously, I served FEHA as editor of the Foxen News for several years, after Jim Pepper "retired" from the position he had held for so many years.  Currently I am a board director, also acting secretary, and I enjoy  administering our website, www.Foxenwood-Estates.com, as well as our Foxenwood group page on Facebook.  My hope is to help bring our community even closer through social media.
My other interests are travel, bridge, puzzles (crossword and jigsaw), reading, movies and my two granddaughters, who live in Brooklyn, New York.  They are 4.5 and 1, and I'm very grateful to my son for using FaceTime as an opportunity for us to have visits and stay closer! 
I have a married son in Brooklyn, a married son in Coeur d'Alene, ID and a stepson in Tokyo, Japan.
Life is good!

Julie Hall, Treasurer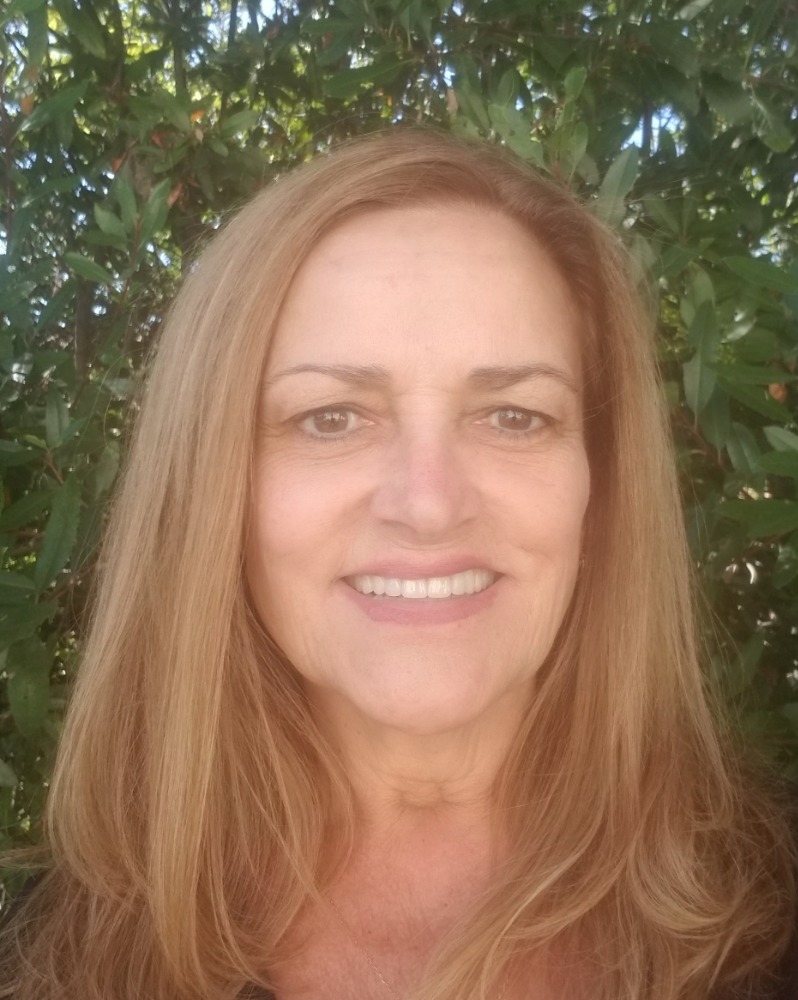 Stephanie Souza, Director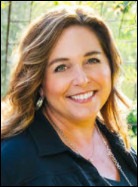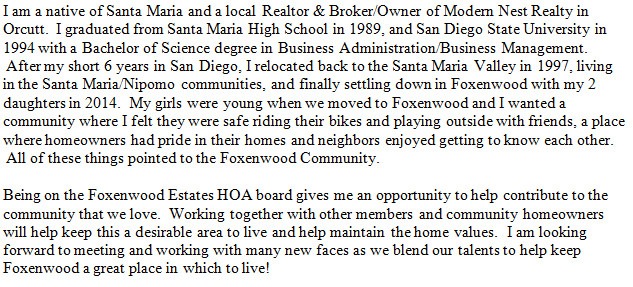 Don Preston, Director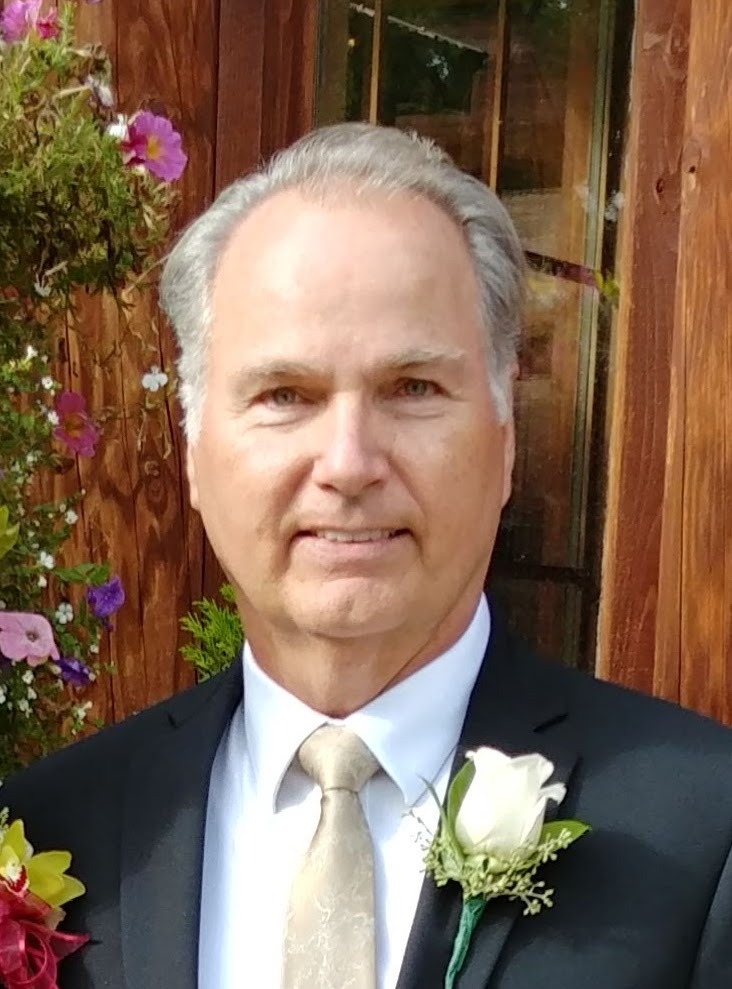 My wife, Julie, and I moved to Foxenwood in Jan. 2022.  We love the climate here.  I grew up in Wisconsin and joined the Marine Corps at 17.  I worked in IT my whole career and retired in 2017. Julie retired from AIG the same year.  We love to travel and enjoy gardening and our pets.  We have a son that lives in Virginia and two grandchildren.
I am glad to be asked to join the FEHA and look forward to working to ensure our community remains a safe and desirable place to live.

Jim Bryan, Director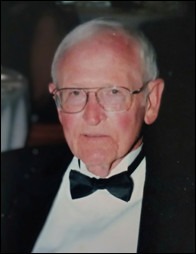 I was born in Indiana and left there to enlist in the United States Air Force.  I spent six years in the military.  My wife Jan and I have been married for 66 years.  We moved into Foxenwood Estates in 1995, about the same time I retired from my job at Vandenberg Air Force Base.  I worked on base for 35 years as an electrical engineer.