Homeowners in Foxenwood Estates take great pride in their yards!  While it is not an easy decision due to the number of outstanding yards, each month one shining jewel is selected as the
"Yard of the Month"!

We are accepting nominations for Yard of the Month! Yes, you can nominate your own yard, or perhaps another beautiful yard you have noticed within the neighborhood!  Send us the address, and we will take it from there --- photos and descriptions, after obtaining permission from the homeowner. A nice way to easily participate in our community!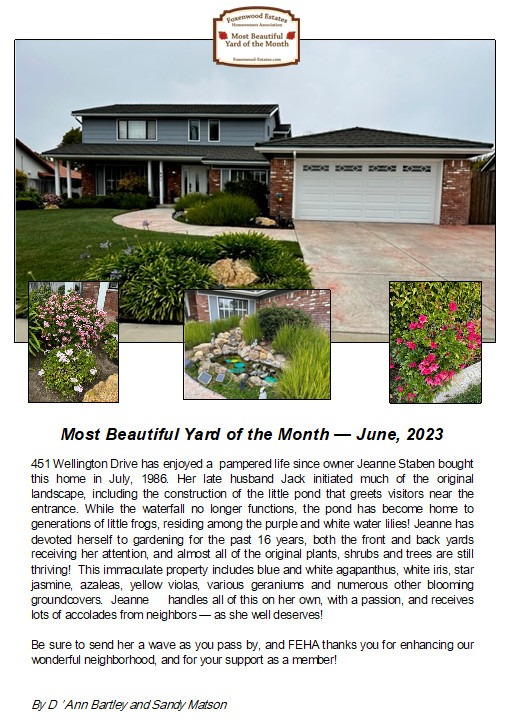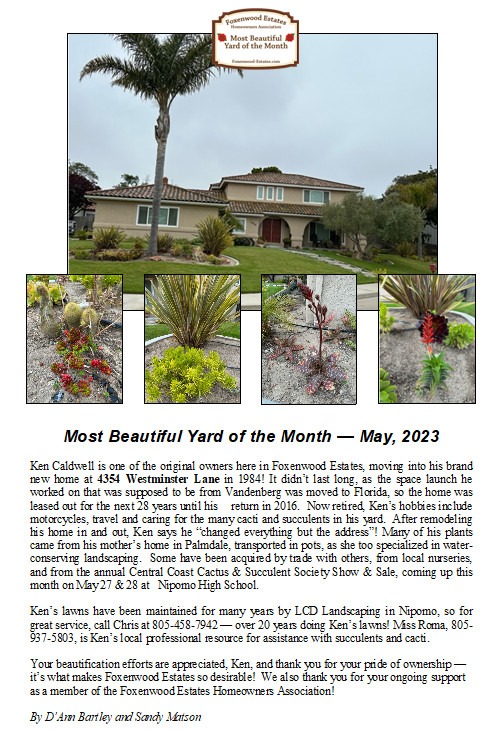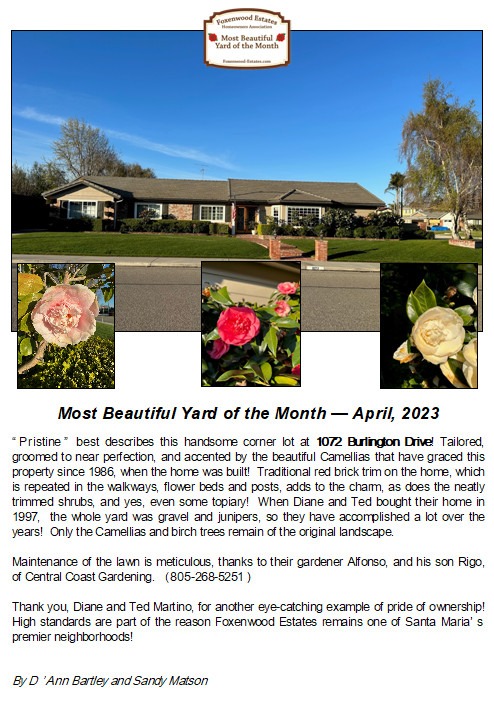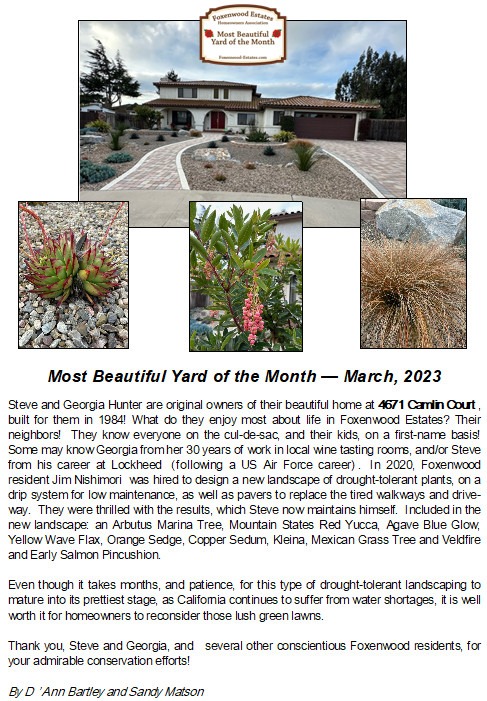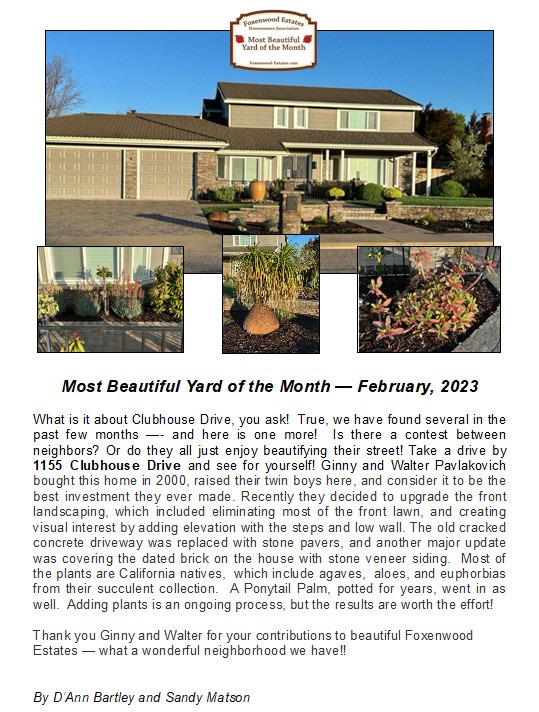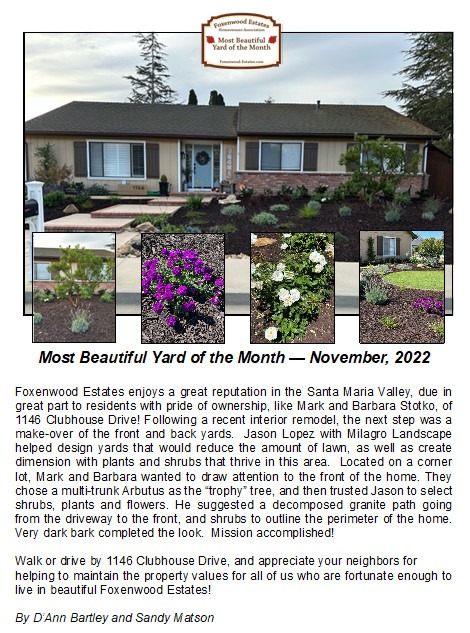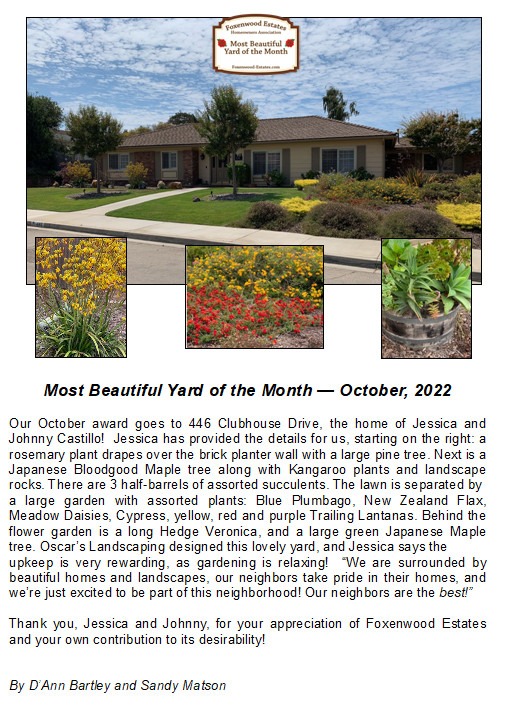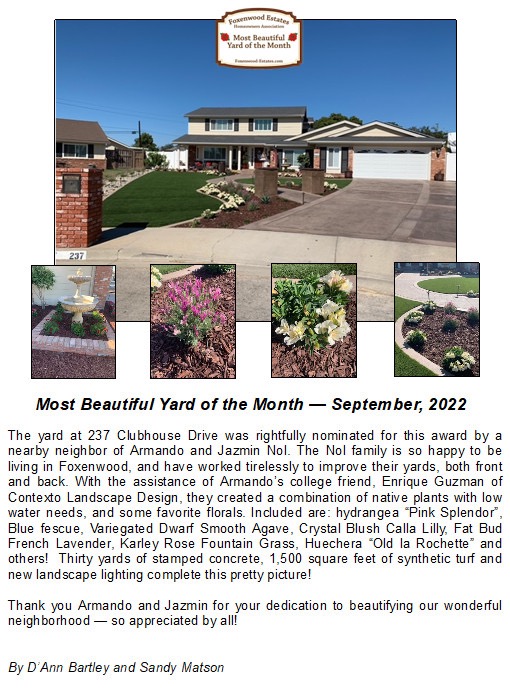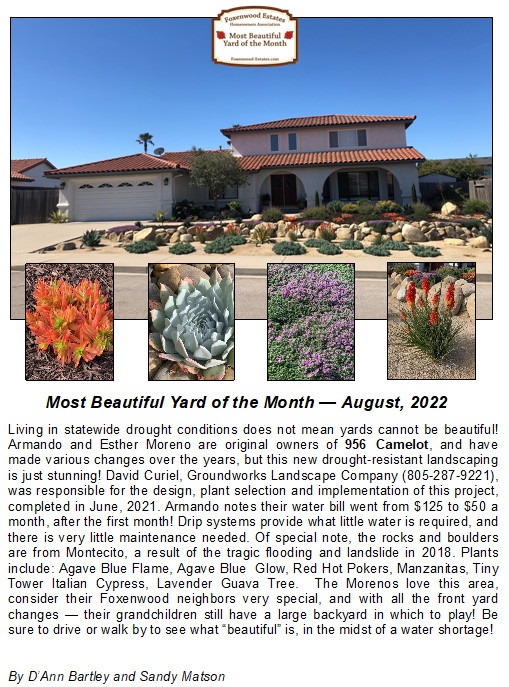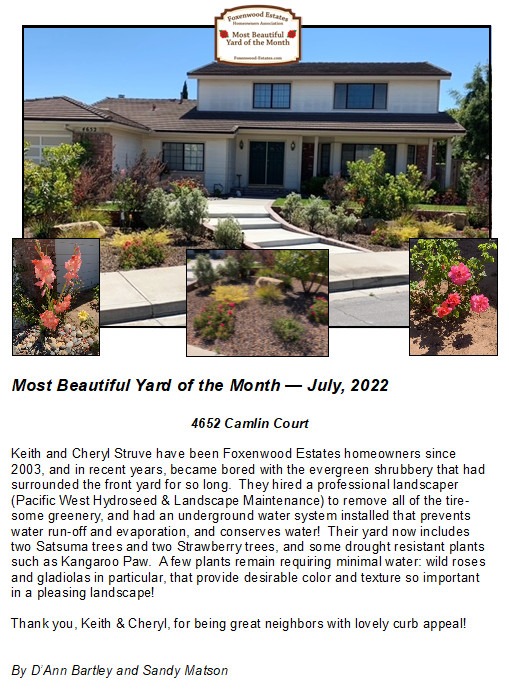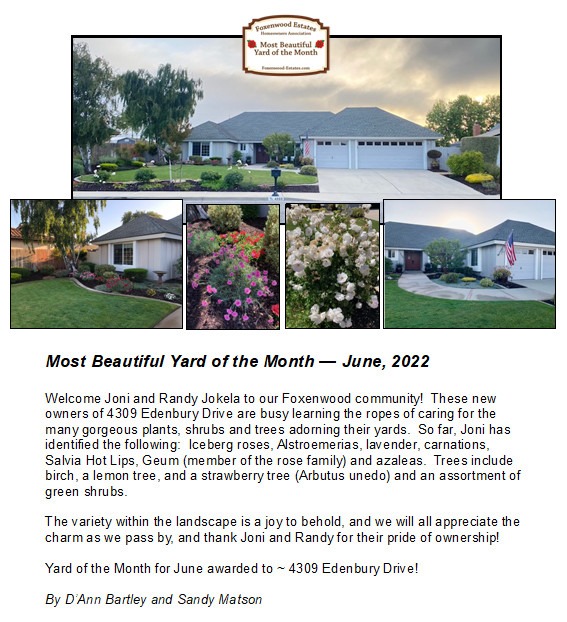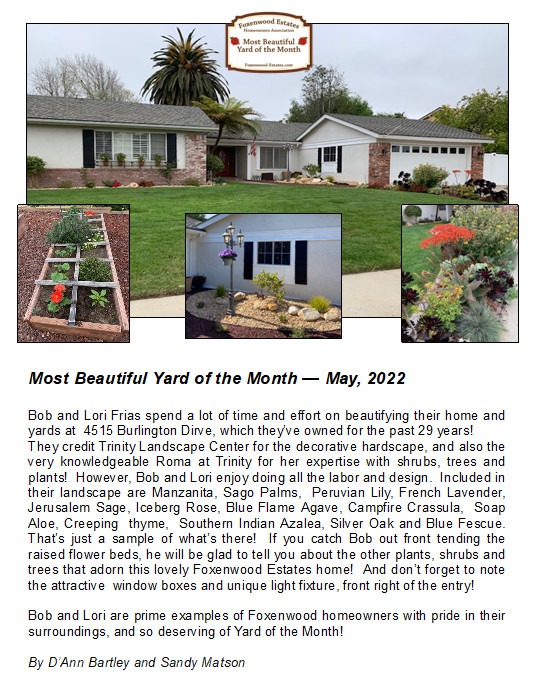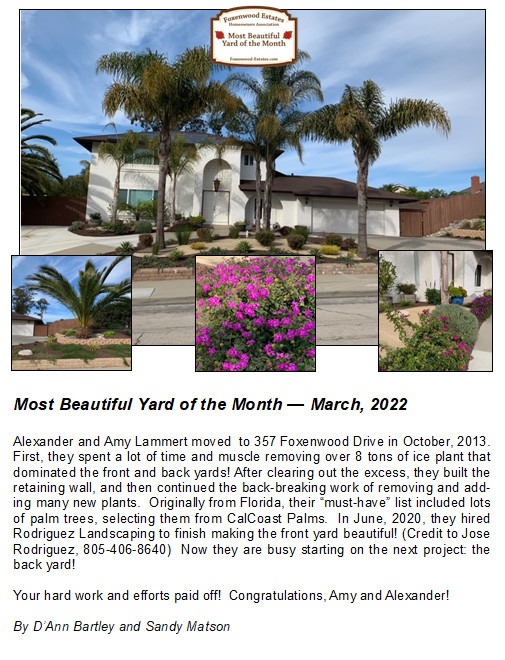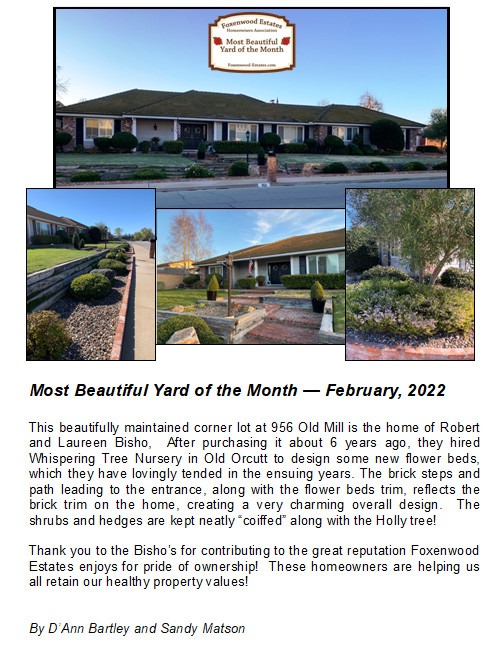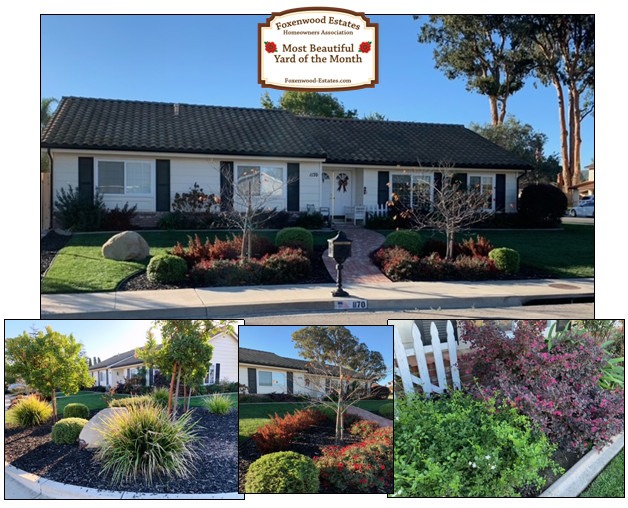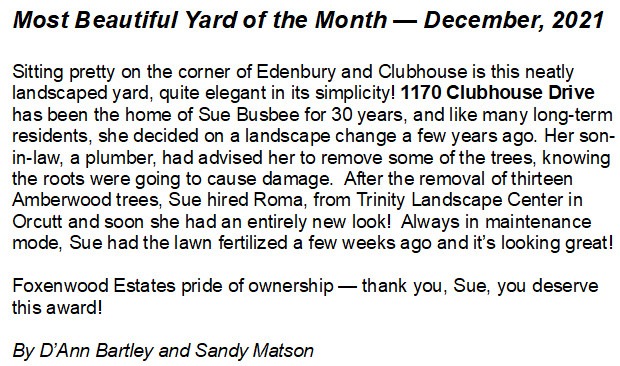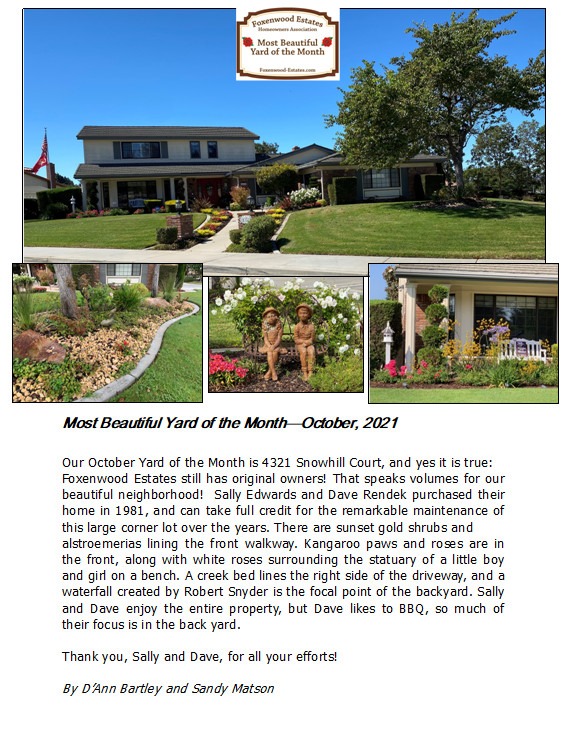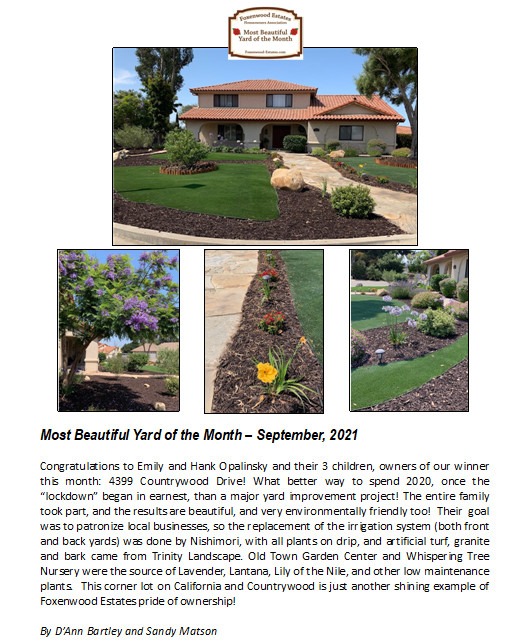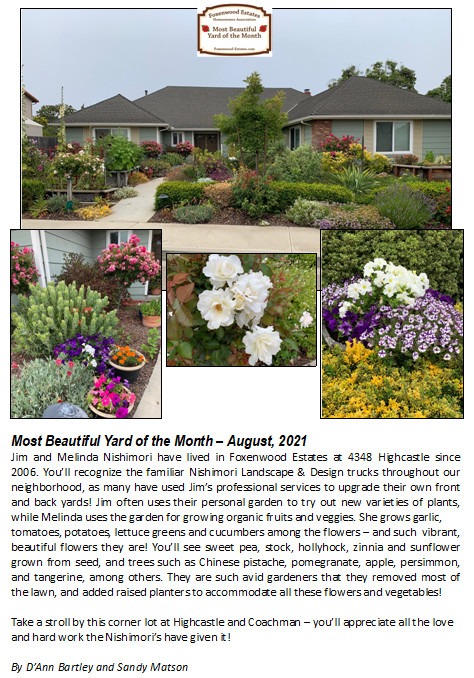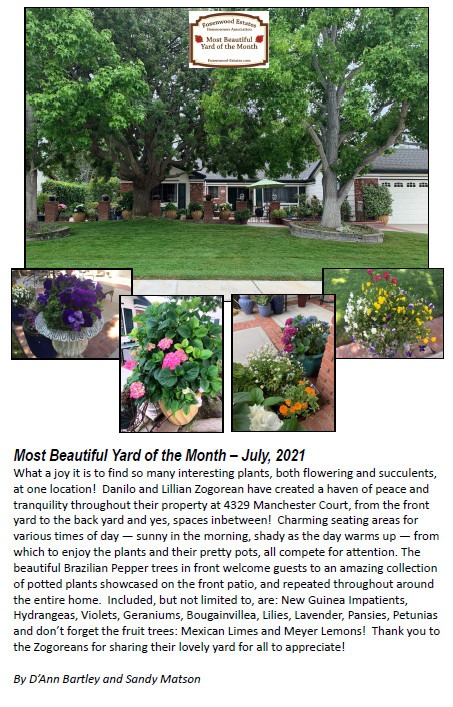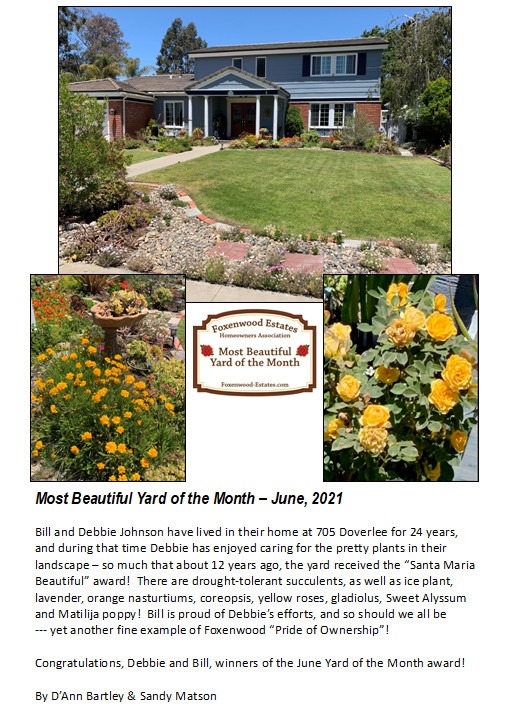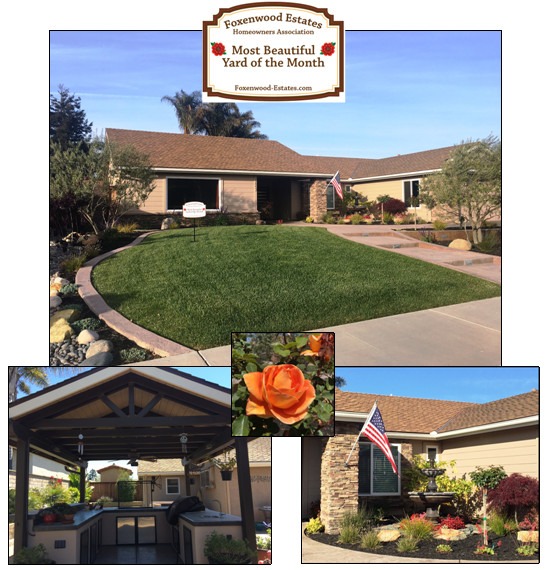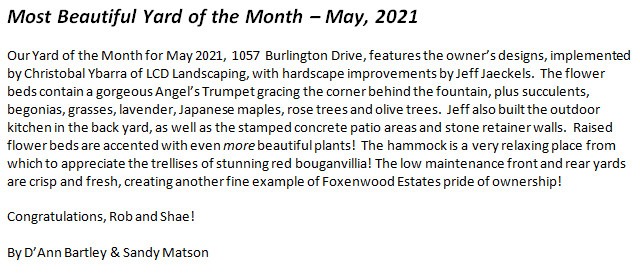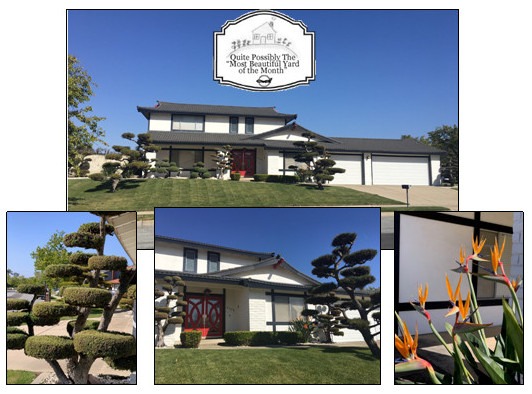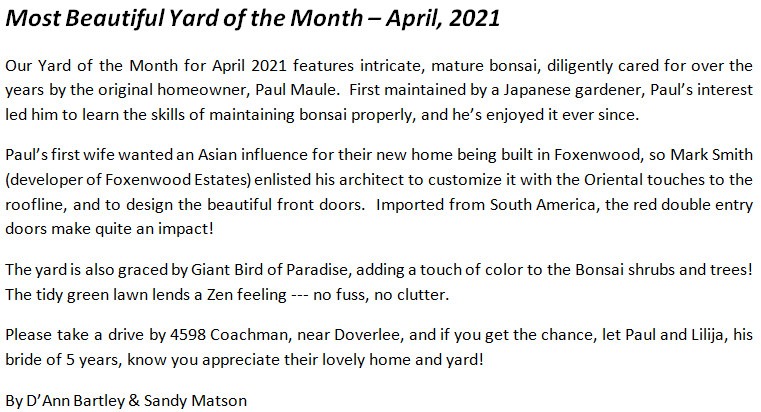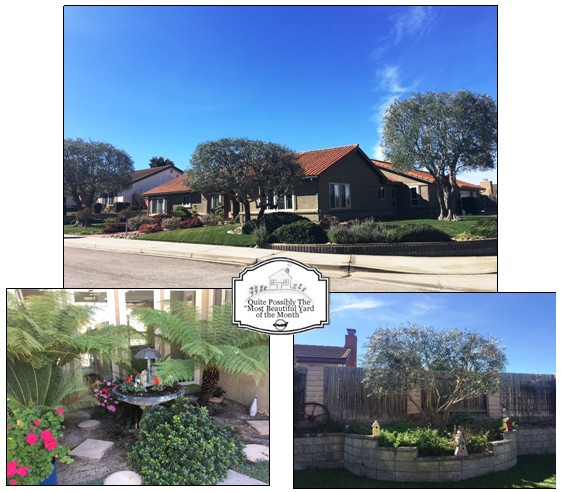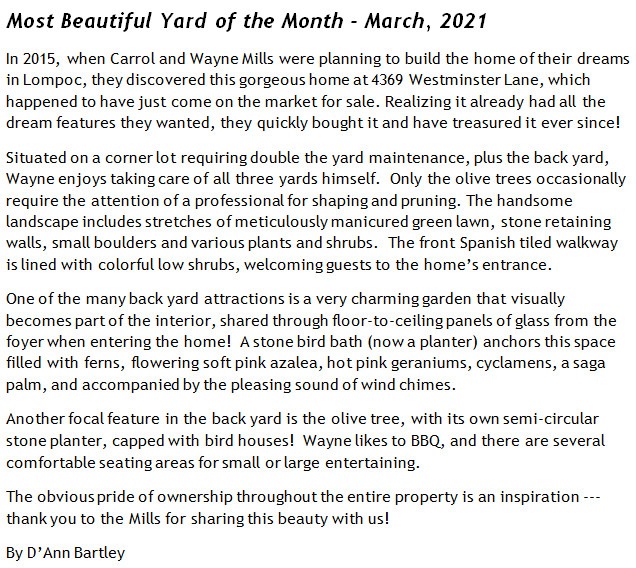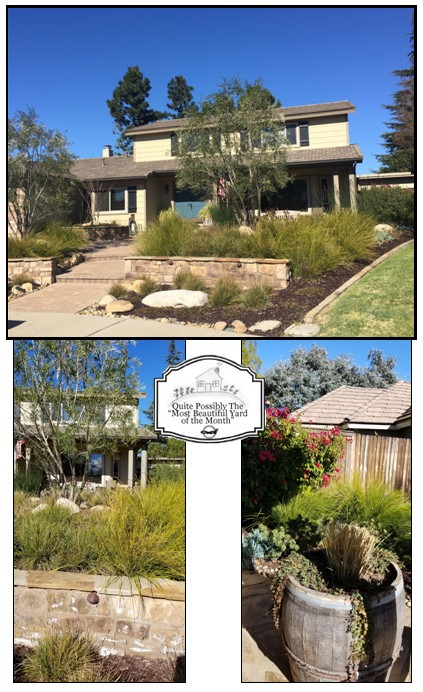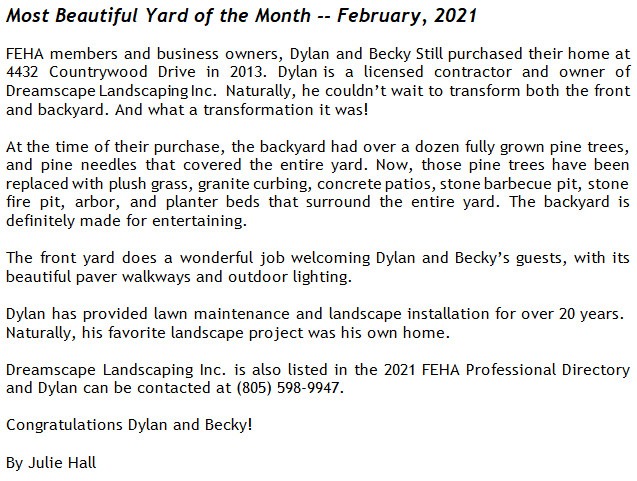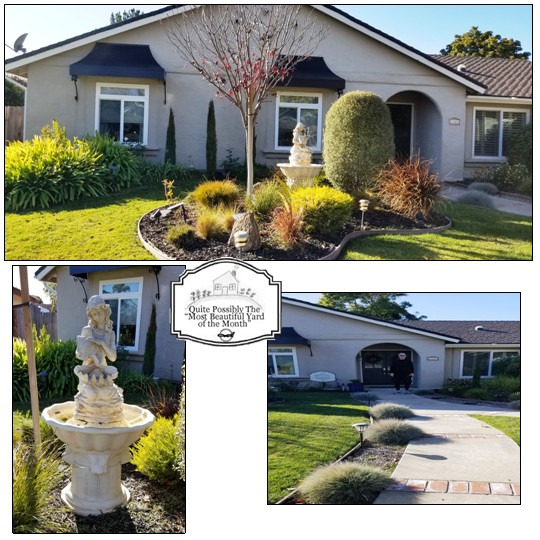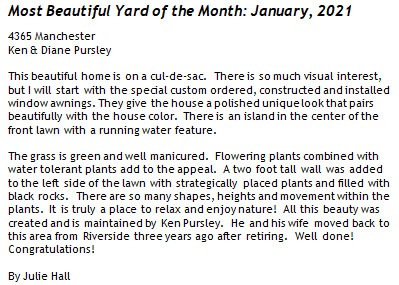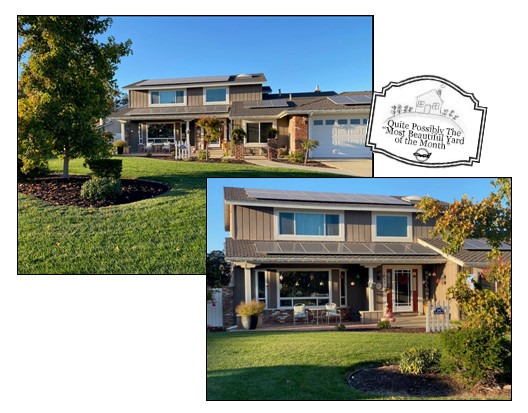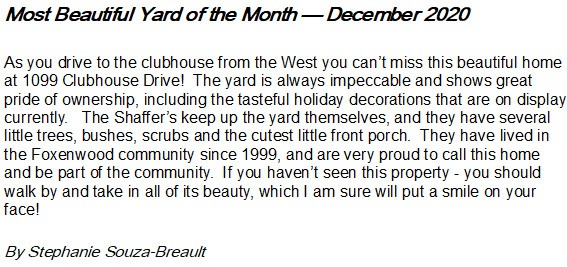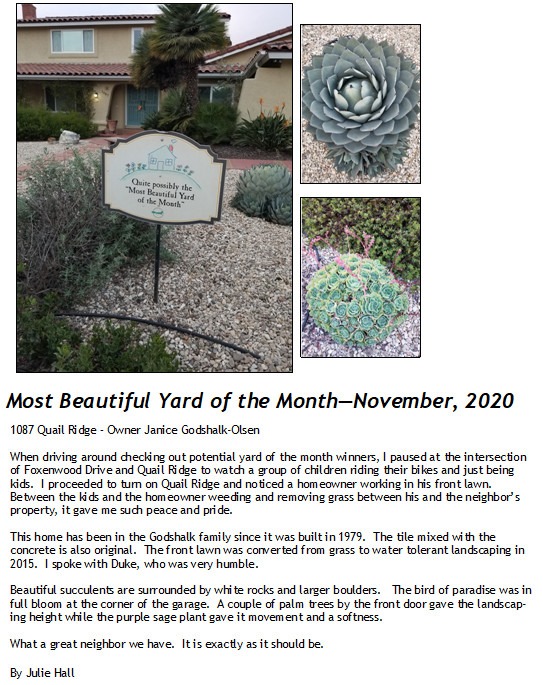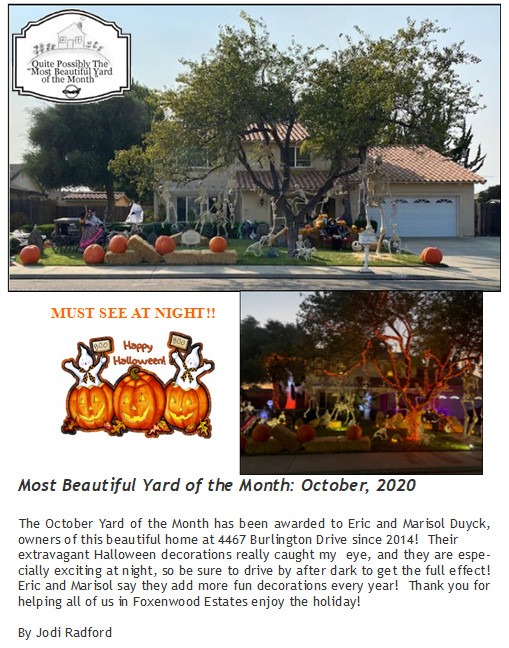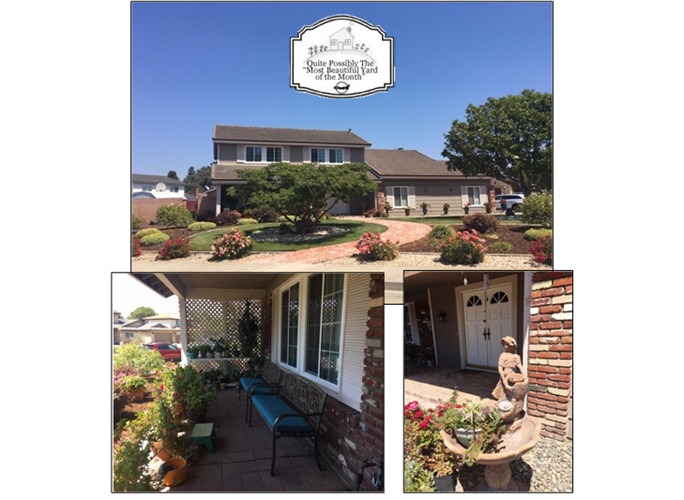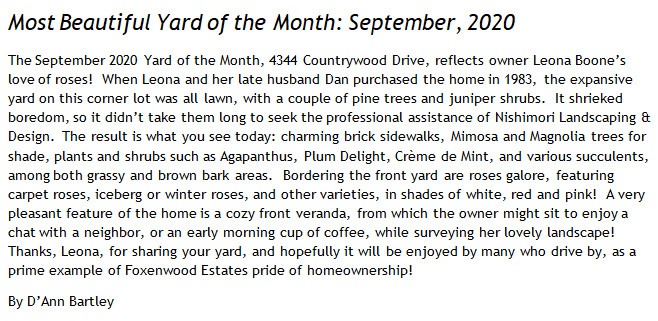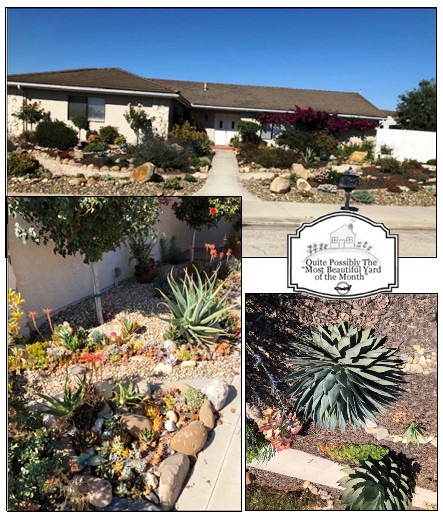 Most Beautiful Yard of the Month: August, 2020
The Yard of the Month for August is 1001 Foxenwood Drive, the home of Bruce and Lisa Henderson. Their corner lot by Old Mill Lane is beautifully landscaped with drought tolerant plants and rocks, and I had the honor of a personal tour with Bruce.

The yard used to be a standard yard with grass and other plants needing more water. The recent drought inspired him to transform it into the drought tolerant display that it is today. Bruce highlighted a few of his favorites. The first stop was a Blue Glow Agave.  As the sunlight moves throughout the day, the shades of bluish color come alive. Next was the Pineapple Agave with broader, more rounded leaves. Near the front door was a variety clustered together he called the "ribbon of succulents".  Red, shades of green, purple and bluish colors spread across this "ribbon".  Next was a cluster of Lipstick Echeveria.  It is a succulent that looks like a green flower that put red lipstick on the tips of each leaf.  This was my personal favorite. Bruce actually picked one and gave it to me as a souvenir.  Thank you, Bruce!  Around the corner near the garage is a dry riverbed formation of rocks, surrounded by more varieties of interesting plants!  He is clearly enthusiastic about gardening and his beautiful yard, which continues to be an exciting work in progress!

By David Wells 




Most Beautiful Yard of the Month: July, 2020

Michael and Elise Quick purchased 1116 Old Mill Lane in late 2017.  They loved the landscaping, and appreciated the care the previous owners had given to the home and yards.  The cohesion throughout of the plants chosen, including lavender, society garlic and flax, along with the mature olive trees, has helped to establish a California ranch feel for the front yard they hope to continue.  With the addition of up-lighting for the trees, river rock and new carpet roses for more color, the Quick's have begun editing the yard to make it their own.  They have also made many changes in the back yard over the past year, to add more color and more native California plants --- even creating more space for their kids and dogs to play outdoors! --- Contributed by Elise Quick

Be sure to drive by the intersection of Old Mill Lane and Burlington Drive to view this beautiful property, and come back again at night when the lighting shows off the enchanting olive trees!

By D'Ann Bartley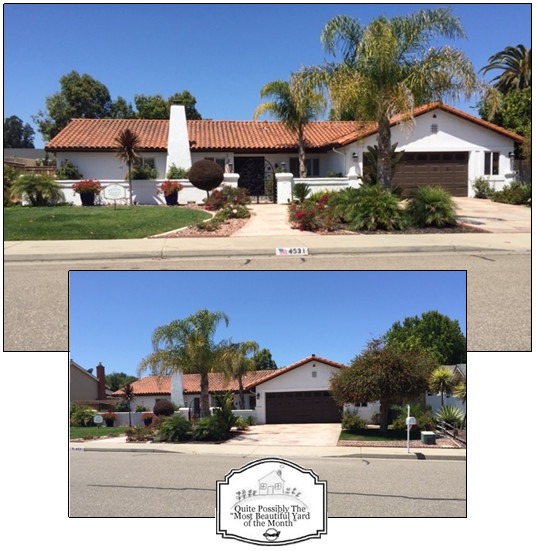 Most Beautiful Yard of the Month: June, 2020

4531 Burlington Drive.  June's Yard of the Month fronts the home of Casey and Kelly Stone, who have lived in Foxenwood Estates since January, 2013.  Casey is also a director on our Foxenwood Estates HOA board.  Casey and Kelly's landscaping is very attractively done, and enhances the courtyard wall that fronts the entry of their home.  They have several palm trees of different kinds and sizes, several bougainvillea plants, trailing roses, many shrubs and a beautiful older Bottlebrush tree on the north side of the driveway.  Drive by and have a look at this beautiful yard!

By Bette Naugle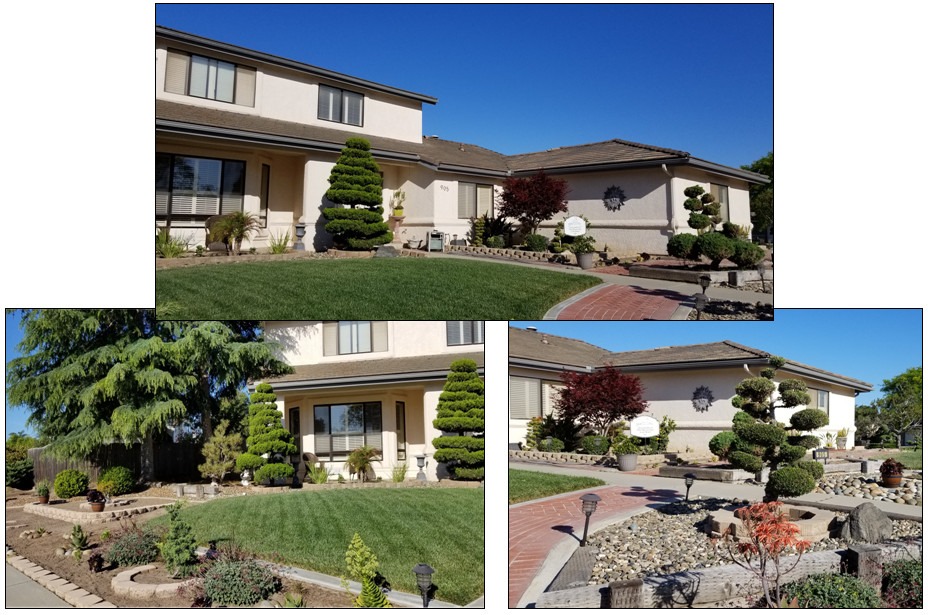 Most Beautiful Yard of the Month: May, 2020

905 Burlington, Owners Larry & Vickie Kase.  Congratulations to the Kase family for being selected Yard of the Month during the COVID-19 lockdown.  The Kase famiy has lived at this location since 1993 when their children were teenagers.  Larry has always done all the gardening.  At one time the front yard was all grass.  He removed about half of the grass, which has saved on water usage.  In addition to the grass removal, Larry has laid all the bricks and sidewalks.  He meticulously manicures each shrub.  No, he is not for hire.  He and Vickie have started farming succulents, which requires much less work.  The family enjoys living in Foxenwood Estates because it is nice and quiet, and they feel safe walking around the neighborhood.  Larry acknowledged the many other beautiful yards in Foxenwood Estates!

By Julie Hall and Jim Bryan





(Please note, there were no properties selected for the months of March and April 2020, due to the corona virus. As of May, we have started again.)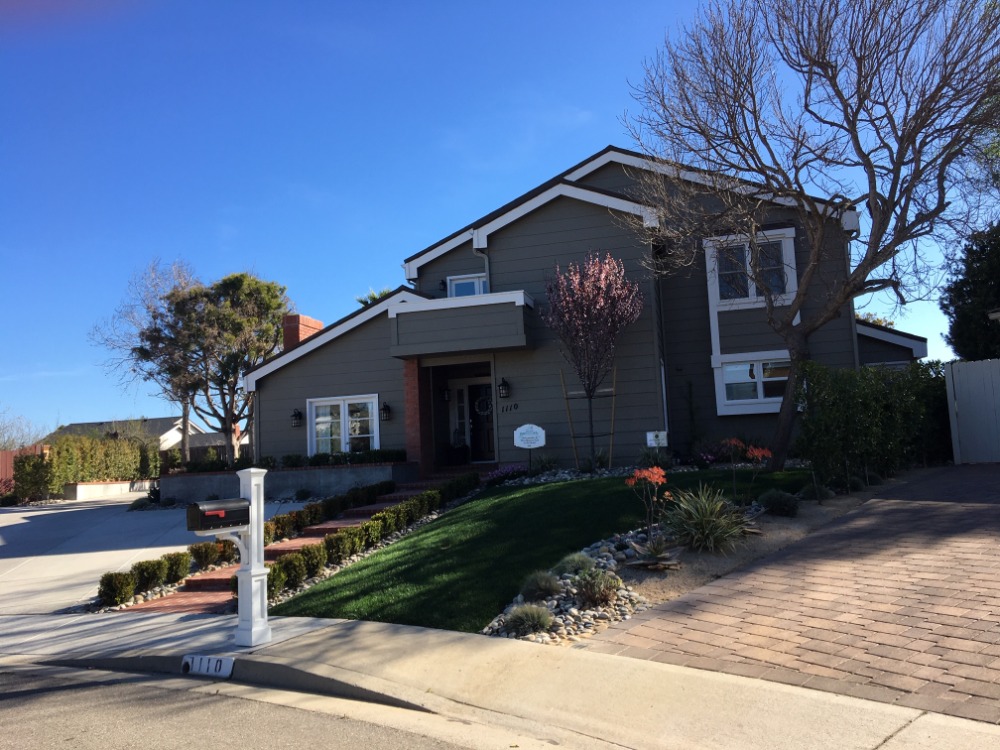 Most Beautiful Yard of the Month: February, 2020

While walking my dog, I often noticed a house at the end of a cul-de-sac near my home, at 1110 Yorkshire Court. It looks like a newly built house that does not fit the typical Foxenwood profile, but is actually a custom plan built in the late 1970's along with the rest of Foxenwood Estates. Greg and Auni Baldwin and their four children bought the house four years ago and have been in the process of remodeling it from the inside out. David Curiel of Groundworks helped design and create this lovely low maintenance yard, with a brick walkway to the front door, and plenty of driveway space outlined with shrubs and lawn, providing a warm green look.  The landscape is new, and they are anticipating the plants to mature and develop an even greener look to the yard. Congratulations for all your efforts to make your home beautiful and for keeping our Foxenwood neighborhood beautiful!

By David Wells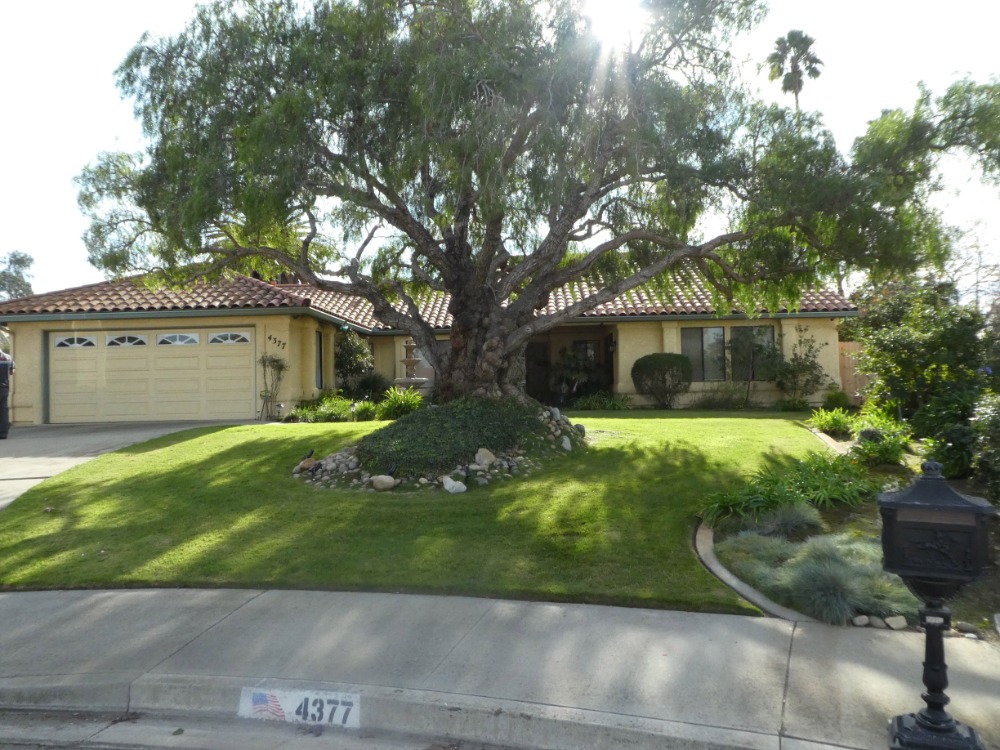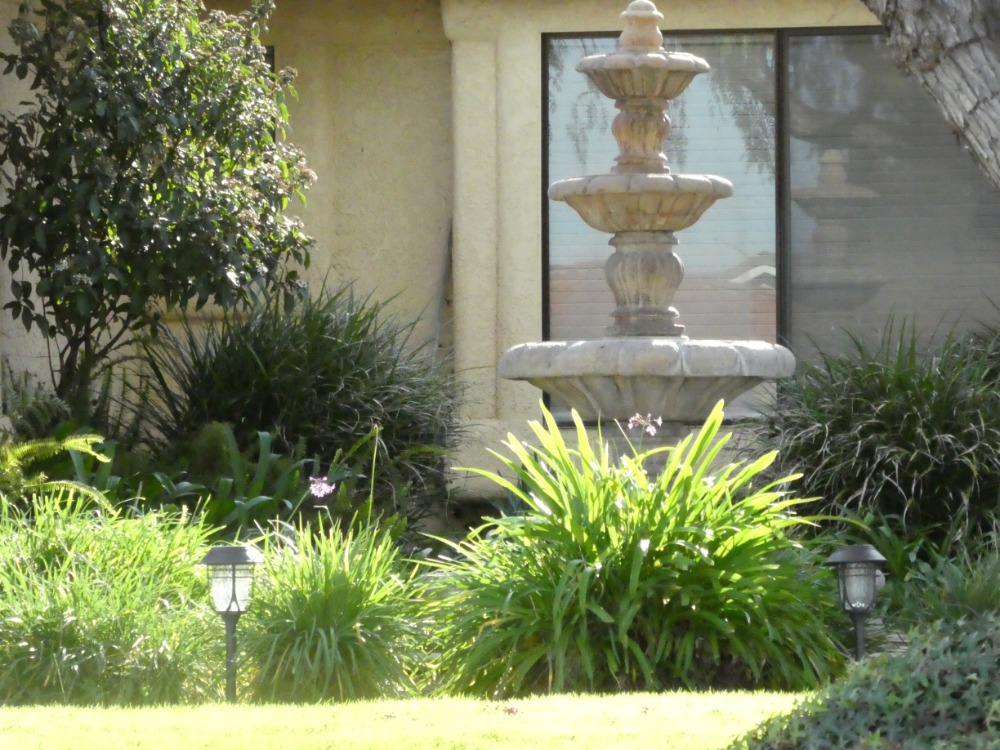 Most Beautiful Yard of the Month: January, 2020

What catches the eye at this stunning property at the end of a cul-de-sac is the magnificent tree in the center of the front lawn. The grass is a lovely hue of green, with a uniquely shaped concrete border to the right. Fitting beautifully are all the mature plants of contrasting shades of green, and a three-tiered water fountain gives the yard balance and interest. 4377 Ashley Place is a great example of a well-maintained yard, and we thank the owner for the diligence, hard work and pride of ownership exhibited -- which helps to make Foxenwood Estates such a wonderful neighborhood to call home!

By Julie Hall and Jim Bryan




Most Beautiful Yard of the Month: November, 2019

Herb and Carmina Cantu moved into their home at 4330 Burlington Drive earlier this year, and wasted no time in giving it a new landscaping makeover.  You can see that it has been very attractively redone!  Note the eye catching retaining wall rounding the corner, the olive trees, fescue grass, Mexican sage, and the use of rock, stones and bark.
By Bette Naugle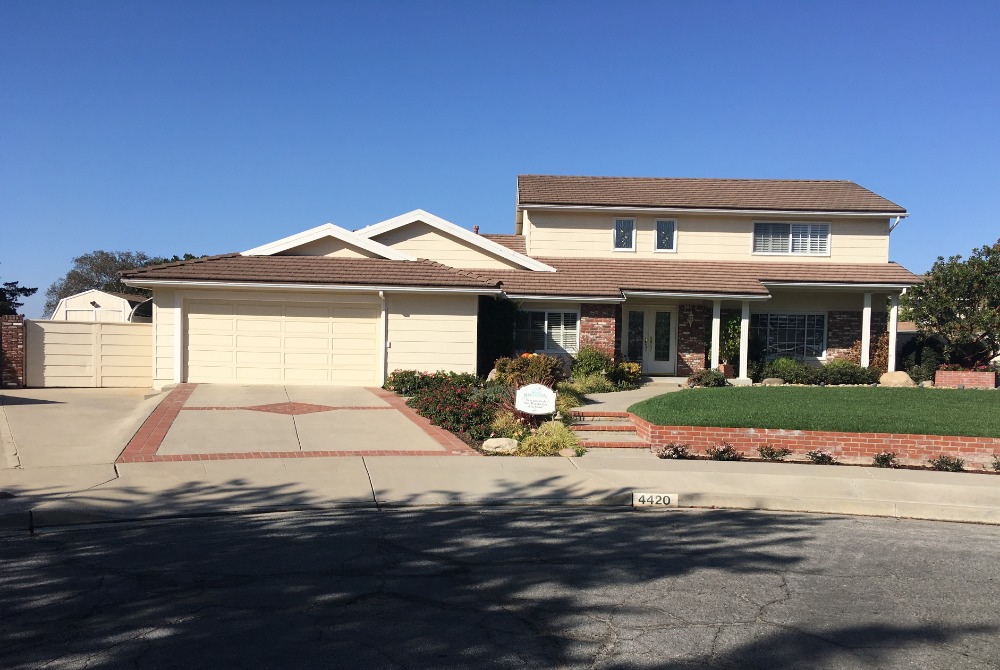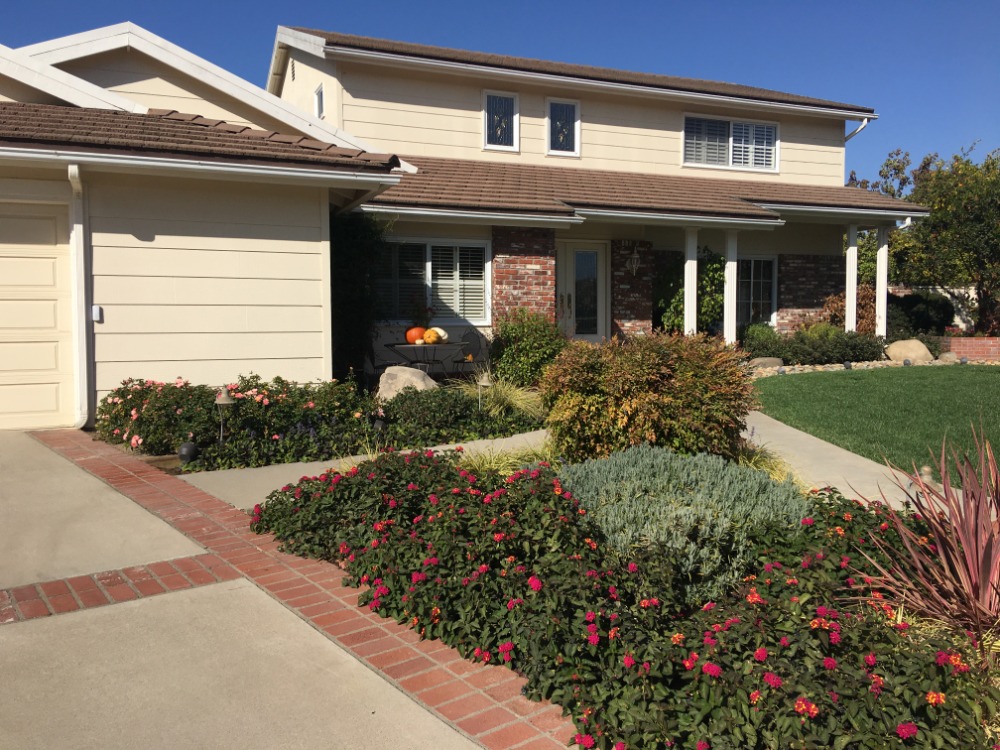 Most Beautiful Yard of the Month: October, 2019

My husband couldn't help noticing this beauty at 4420 Old Mill Court while out walking at night!  Will and Bonnie Buckley have lived in their home for over 40 years. The gorgeous yard was designed by them, with some help from their grandson and Nishimori's.  Some of the notable features of this beautiful home are the stunning front doors, and matching second floor windows, which were custom made in Ventura.  Another feature that completes the good looks of this home is the siding added to the fencing that helps the house appear wider! 

By Jodi Radford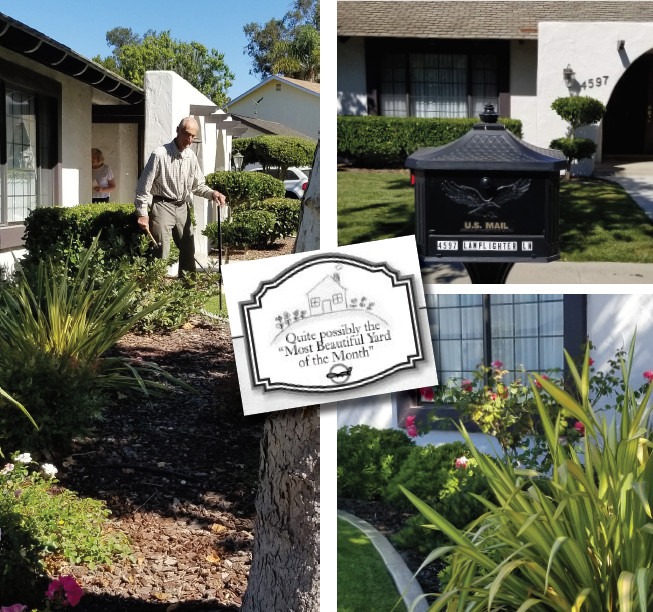 Most Beautiful Yard of the Month: September, 2019

On a warm and sunny Saturday morning, while driving around Foxenwood Estates looking at yards, I was drawn to 4597 Lamplighter Lane.  This corner lot has a beautiful shade tree, green grass and the sprinklers were catching the sun's light, making it magical! More than all that, I saw a man working in the yard.  It was such a reminiscence "Saturday morning in the neighborhood" kind of day.  I met the sweet owners, Oren and Leona Wilson, who have lived in the home since December 1979.  Their yard was renovated a few years ago by New Era Landscape.  The mailbox was removed, sidewalks replaced and concrete borders added.  A new sprinkler system was also installed.  Oren and Leona like the quiet neighborhood and good neighbors.  Foxenwood Estates has wonderful residents!  Thank you and Congratulations, Oren and Leona!
By Julie Hall and Jim Bryan




Most Beautiful Yard of the Month: August, 2019

Frank and Angela Muto have lived in their home at 933 Amberley Place since 1993.  This year, they decided to give their front yard a new look, which includes a mix of plants and shrubs, including several that are drought tolerant. Names of some of the plants are Fountain Grass, Cordyline, Loquat, Senecio and Pittosporum Wheeler's Dwarf.  They preserved and maintain three older Birch trees on the west side of the yard.  Frank and Angela did the design layout, chose their plantings and did the planting and work themselves.

By Bette Naugle